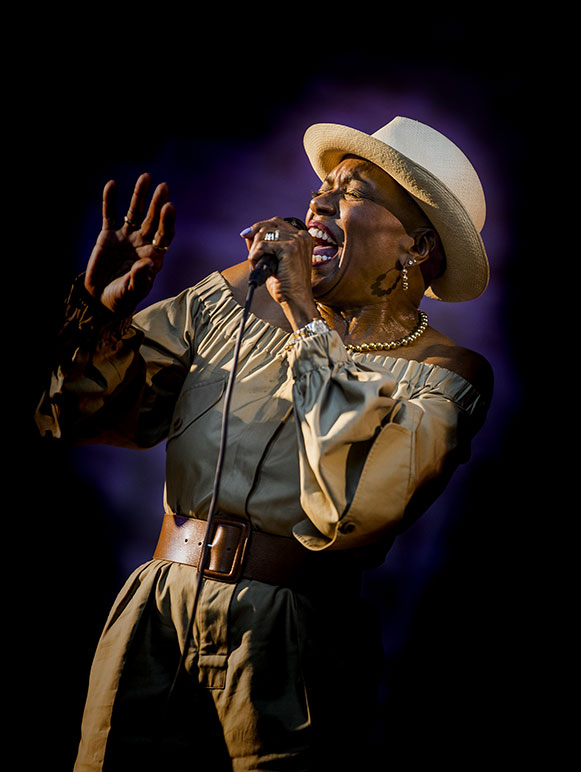 DEE DEE BRIDGEWATER
Over the course of a multifaceted career spanning four decades, Grammy and Tony Award-winning Jazz giant Dee Dee Bridgewater has ascended to the upper echelon of vocalists, putting her unique spin on standards, as well as taking intrepid leaps of faith in re-envisioning jazz classics.
Ever the fearless voyager, explorer, pioneer and keeper of tradition, the three-time Grammy-winner most recently won the Grammy for Best Jazz Vocal Album for Eleanora Fagan (1915-1959): To Billie With Love From Dee Dee.
Bridgewater's career has always bridged musical genres. She earned her fifirst professional experience as a member of the legendary Thad Jones/Mel Louis Big Band, and throughout the 70's she performed with such jazz notables as Max Roach, Sonny Rollins, Dexter Gordon and Dizzy Gillespie. After a foray into the pop world during the 1980s, she relocated to Paris and began to turn her attention back to Jazz. Bridgewater began selfproducing with her 1993 album Keeping Tradition (Polydor/Verve) and created DDB records in 2006 when she signed with the Universal Music Group as a producer (Bridgewater produces all of her own CDs). Releasing a series of critically-acclaimed CD's, all but one, including her wildly successful double Grammy Award-winning tribute to Ella Fitzgerald, Dear Ella – have received Grammy nominations. Artist Theo Croker is signed to DDB Records and Dee Dee recorded Dee Dee's Feathers with the New Orleans Jazz Orchestra which was released by her label in 2014.
Bridgewater also pursued a parallel career in musical theater, winning a Tony Award for her role as "Glinda" in The Wiz in 1975. Having recently completed a run as the lead role of Billie Holiday in the off-Broadway production of Lady Day, her other theatrical credits include Sophisticated Ladies, Black Ballad, Carmen, Cabaret and the Off-Broadway and West End Productions of  Lady Day, for which Bridgewater received the British Laurence Olivier Nomination for Best Actress in a Musical.
As a Goodwill Ambassador to the United Nations' Food and Agriculture Organization (FAO), Bridgewater continues to appeal for international solidarity to finance global grassroots projects in the fifight against world hunger. She is currently on tour worldwide in support of "Memphis," her new CD, and in April of 2017 was the recipient of an NEA Jazz Masters Fellows Award with honors bestowed at the Kennedy Center in Washington, D.C. Bridgewater is an ASCAP Champion Awardee, was named a Doris Duke Artist in 2018, and inducted into the Memphis Music Hall of Fame in 2019.
LUCY WOODWARD
was born in London and lived in Amsterdam til she was 5. She moved to New York with her mother who was a musicologist-opera singer-belly dancerschool teacher and spent her summers in The Netherlands with her composer-conductor father. She went to public high school in The Bronx but was accepted early at age 16 to Manhattan School of Music, dropping out after one year when she realized she loved bebop but didn't sing it.
She started waitressing, singing jazz and blues standards for tips in NYC coffee shops, working in cover bands and singing on tv commercials. Lucy began writing songs, honing a new skill she didn't know she had, and eventually signed her first record deal with Atlantic Records in 2003. She had 2 Top 40 pop hits, went to Japan for the first time and performed on The Tonight Show with Jay Leno.  But she left the pop world as fast as she came in leading her to release 3 more studio solo albums: Til They Bang On The Door (GroundUP), Hooked! (Verve) and indie Lucy Woodward is…Hot & Bothered (Barnes & Noble) – all albums rooted in blues, soul, jazz and pop which was quite the opposite of the world she had been living in just a few years prior.
In 2011, Lucy was asked to fill in last minute for the lead singer of Pink Martini having to learn material in Turkish, Croatian, Japanese, Spanish and French with 6 days notice,  performing at festivals including Montreal Jazz Fest, Ravinia and 3 concerts with the San Francisco Symphony. She recorded the 1.3+ million viewed song "Too Hot To Last" with Snarky Puppy which is featured on their Grammy-winning Family Dinner album and has toured opening for them internationally on and off since 2011. She performed with the WDR Big Band in Cologne, Germany and continues to sing her Big Band material in urope and the US.
She has sung background vocals with legendary artists including Rod Stewart, Celine Dion, Barbra Streisand, Joe Cocker and Chaka Khan and has contributed her vocals and songs to countless soundtracks including the Big Band Bjork smash "It's Oh So Quiet" from the Disney movie Ice Princess and Birds of Prey. Lucy's fifth album usic!Music!Music! is the debut collaboration with legendary guitar virtuoso Charlie Hunter. They tour tensively in the US and Europe and their follow up album "I'm a Stranger Here" will be out
Spring 2021. Lucy travels back and forth to NY and LA but resides in Rotterdam most of the year where she is now learning to ride a bike, eat proper cheese and speak Dutch again which funnily enough, was her first language.
SAMUEL
Samuel is a very active author and composer: he made nine original albums with Subsonica and six with Motel Connection, with whom he also worked on two soundtracks. The frequent musical collaborations include, among others, with Subsonica, Franco Battiato, Bluvertigo, Antonella Ruggiero, Krisma, and as soloist Patty Pravo, Jovanotti, Manuel Agnelli, Alessandro Mannarino.
In 1996, he started the group Subsonica along with Max Casacci, Boosta, Ninja and Pierfunk (replaced in the '99 by Vicio). In those years of strong musical ferment, are also born the Motel Connection, and he founded two labels of techno music. His activity as a dj and a producer makes him the protagonist of many famous evenings in the clubs of reference for the techno scene. In February 2017 he participated in Sanremo with "Vedrai" and released his first solo album, "Il codice della bellezza". On October 12, 2018 "Otto", the eighth album of unreleased pieces of Subsonica, of which he is a co-author and which follow up with tours in clubs all over Europe, in the Italian palaces and in the most important summer festivals.
In 2019, Samuel participated as a judge in the thirteenth edition of the talent show X Factor. In November 2019, Subsonica released "Microchip Temporale", a special edition of "Microchip Emozionale", in a collaboration with 14 artists. Friday, April 24, 2020, "Mentale Strumentale" comes out, the ninth album of the group, recorded in 2004. Since March 2020, Samuel has created "Golfo Mistico", his music studio, which became a multi-creative hub, within which will meet various figures related to the world of music, but not only. From Friday, June 12, 2020, is available in digital "Il codice della bellezza (Live with Orchestra)" (Sony Music), the live version of the first disc of Samuel Romano recorded with the orchestra Bandakadabra, presented live with a secret show on June 15, 2020. In July 2020 Samuel returned live with three special events in the middle of the sea of the Aeolian Islands and a summer tour. On 22 January 2021 he released his second solo album "BRIGATABIANCA", anticipated by the singles "Tra Un Anno" and "Cocoricò" feat. Colapesce. On May 14, 2021, he published the single "Cinema", feat. Francesca Michielin.
BILLY COBHAM
UAA has signed "Fusion's Greatest Drummer" Billy Cobham exclusively for North American representation. William C. Cobham was born on May 16, 1944, in Panama where he grew fond of percussion from watching his cousin play. At age three, his family moved to New York City and at age eight Billy made his percussion performance debut with his father.
Growing up Billy played in the St. Catherine's Queensmen at the High School of Music and Art. After graduating Billy served as a percussionist in the U.S. Army National band. He then played as a drummer in pianist Horace Silver's band and toured the U.S. with him throughout the late 1960s. He then left to partake in Miles Davis' fusion ensemble where he can be heard on Davis classics such as 'Like-Evil' and 'A Tribute to Jack Johnson'. Eventually Cobham parted ways from Davis' group to work with the Mahavishnu Orchestra, where he was able to further explore his technique and fusion style which influenced many for years to come.
After deciding to part ways with the Orchestra, Cobham started his own band, Spectrum and signed with Atlantic Records. Spectrum's debut album featured a mix of jazz, funk and rock that allowed Cobham to further experiment with percussion. In 1975, Cobham released "A Funky Thide of Sings" moving into commercial jazz exclusively. In 1977, Cobham left Atlantic and signed to CBS label which allowed him to reach the commercial success he had always wanted. Cobham focused on his opportunities as a session drummer and other side opportunities after leaving CBS, such as drumming for the Grateful Dead's side project Bobby & the Midnites. In 1988, Cobham helped start a group called 'Jazz is Dead' which reprised Grateful Dead music with jazz iterations.
In 2001 Cobham was named one of the 25 Most Influential Drummers by Modern Drummer magazine. He paved the way for future drummers by changing the way percussion is set up, the way it is played and enjoyed. In 2001 Cobham released "Drum 'n Voice 1" which was his return to the 1970s jazz-funk sound and then in 2006 Cobham released "Drum 'n Voice 2" eventually Cobham released his follow up record "Drum 'n Voice 3" in 2009. In 2011 Cobham started teaching drums online at the Billy Cobham School of Drums which is a ArtistWorks Drum Academy. In 2018 Cobham toured across the US a performance series called "Crosswinds Project" which was his way of revisiting his second album, Crosswinds. The tour re-comprised his original work from the 1970's which continued into 2019 as a celebration of Cobham's 75th birthday.
Cobham continues to tour worldwide.
ALEX BRITTI
Much of him and his music are announced by his face: the severe features, the elusive look, the contagious smile. "Because I'm an only child, I'm used to being alone, I don't look for and I never sought the support of the group": Alex Britti is a guitarist and a solo author, proud, determined.
He has always been an extraordinary guitarist, since he was very young, since he toured Europe with great Blues artists such as Rosa King, Buddy Miles and Billy Preston. Now, at 46, he serenely tells of those difficult beginnings, when he played as a musician also to make ends meet, because he could not be heard as a songwriter.
But stubborn as he is, Alex never gave up and in 1997 came the contract with Universal Music and the release of two singles – Quello che voglio and Solo una volta (o tutta la vita) – and the first album, It.pop. The result was popular success combined with the first critical awards: It.pop is triple platinum, while "Music and Records" is the best debut record of the year. In the playlist of the album, two songs characterize the stylistic signature of the Roman singer-songwriter: Gelido, a bluesy ballad, with unaltered rhythm, repetitive and sensual, that rests on a broken text, composed of short sentences, a song that escapes the labels, "a speech difficult to guide", which almost contrasts with Solo una volta (o tutta la vita): a sunny, funny, lightful piece.
The following year the PIM (Italian Music Award) proclaims him "best new artist" and in 1999 his Oggi sono io wins among the New Proposals of the Sanremo Festival: most introspective side prevails, as his artistic soul, with a song that, two years later, will be reinterpreted by a sacred monster of Italian music: Mina ("I'm still not used to hearing it sang from her, still takes a hit every time!" tells coy and sincere).
A rapid succession of events and successes: the Pavarotti & Friends (where he also plays as guitarist of Joe Cocker and Pavarotti), the tour "Sulla spiaggia" with Corrado Guzzanti, the release of the album La vasca (2000 Universal Music), thanks to which, for the first time in Italy, an artist bares himself at the summit of the radio air play: the first single excerpt – Una su 1.000.000 – yields, in fact, the first position in the standings to the title-track La vasca. And again a new Sanremo Festival with Sono contento, the Palavasca and triple platinum for his second album.
Among many successes, one more intimate, less cheeky than the others but that perhaps left a deeper mark: when he could listen to the piano and the voice of Ray Charles come out of his monitor – right from his, that of Alex! – who played a solo for The Genius on the Ariston stage in Sanremo, where Charles was a guest and played an English version of Nel Blu Dipinto Di Blu.
Mina, Anna Mazzini at the registry office, decides to record her version of "Oggi Sono Io''. The lombard artist, struck by the beauty of this song and the depth of the text, asks the Roman singer-songwriter permission to make a version of it. Britti, of course, accepts it, honored, and Mina recorded the song at the first and only rehearsal.
The song was proposed for the first time to the public on March 31 during the 62-minute document (Mina in studio) transmitted by the portal www.inwind.it. It is the first mass event for the public of the Internet in Italy: over 15 million requests for access to web servers in the time frame of the event; over 2 million requests of access to the page of the event to chat, download images and send messages to the forum dedicated to Mina, until late at night; over 250,000 computers were connected – many of which were not alone in front of the screen of their personal computer for an event like this – and have seen in full and for over an hour the music movie of Mina establishing an absolute record in Italy; the first big multicast event in Italy.
The feedback from the audience is not disappointing and the song released at first as a single and then included in the best of "Platinum Collection 2" of 2006 gets a success in line with the first performance of Britti.
Alex is always and above all a guitarist, a musician who has to test himself and discover new things about himself and his trusty Martina (one of his first guitars, a Martin, in fact) every time he gets on stage. It is not surprising then that to promote 3 (2003 Universal Music), the third studio album (preceded by the third festival participation with the song 7000 coffee) chose the long tour "Kitarra, voce e piede" in which – only on stage – reinvents, colors up, distorts its repertoire with the help of microphones and samplers.
The release of Festa (2005 Universal Music), however, surprised many; an album much more acoustic and authorial than the previous ones, in which you can breathe more the blues and jazz matrix of the musical formation of Alex, recomposed, covered, with the craftsmanship of a tailor. Festa is also the record in which to tell in a heartfelt and direct manner our daily life made of "lives uphill" and shattered dreams.
There are still more excellent collaborations: from the one with Geoff Westley, an internationally renowned producer, with whom he arranges "Solo con te", a song with which he competes at the Sanremo Festival 2006, to the one with a personal childhood hero, Edoardo Bennato, with whom he wrote and played Notte d'estate and with whom he toured in 2007.
After the release of Mtv Unplugged (2008 Universal Music), a completely acoustic reinterpretation of its repertoire, fun, exciting, electrifying is the recording of ".23" (2009 Universal Music).
With Alex in the studio there are, in fact, extraordinary musicians such as Darryl Jones, bassist of Miles Davis, Eric Clapton and the Stones, Davide Rossi, violinist and arranger of Brian Eno, Robert Fripp and Coldplay, Paco Sery, drummer of Joe Zawinul, and also Bob Franceschini, saxophonist, among others, by Mike Stern, and Cecilia Chailly, harpist by De André and Mina. ".23" is a record in which the landscapes are protagonists, from those familiar and noisy of his dear Rome, to those dreamed of of a starry Bethlehem or of a bombed Berlin, from the rainy ones of an autumn difficult to live to those overcrowded in the "day that tastes good" like in "a night that tastes like mint".
In 2011 he released Immaturi, soundtrack of the film of the same name by Paolo Genovese. The song is included in the Best-of released the same year by Universal Music, followed by the Best of Video Collection.
In 2011, Rizzoli published Nelle mie corde, a book/dvd in which Alex recounts his musical passions and reveals some guitar tricks ("some", he emphasizes himself with a sly smile).
In 2012 an old friendship – artistic and private – finally became a tour: it's "Mo better blues", an instrumental project that sees him as a musician together with the great saxophone player Stefano Di Battista.
It is in the studio that the idea of the "Jimi Hendrix Experience" is born, a tribute to a music legend, played in trio with Mel Gaynor and Ged Grimes, drummer and bassist of Simple Minds. And it is also with Mel that Alex recorded Bene così (2013 It.pop, distrib. Artist First), the new album of unreleased pieces and released in June 2013, anticipated on the radio by the single Baciami (portami a ballare). The private affections, the "banal concreteness hung on a thread of melancholy" and the desire to go on in "this world of madmen", the need to always find a new impetus, a new dream that pushes us beyond: Bene così is a record much more immediate than the previous ones. Observations, thoughts, moods, told in a simple and direct way, played with the usual grit.
The three singles – in addition to Baciami and the title track, Senza chiedere di più, written together with his friend Federico Zampaglione – were on the top chart of the major radio networks for months. In October he held his first solo concert in London, a sold out. On the occasion of the participation in the "Christmas Concert 2013" – aired on December 24 on RAI 2 -, Britti meets and duets with Patti Smith, a rock legend.
His guitar continues to fascinate and make proselytes, continues to reveal new sounds and emotions; so the next tour is "Chitarra Voce e Piedi": still sold out concerts for a show that sees Alex alone again on stage; the following summer he surprises instead with a very rock, electric and powerful tour.
In December 2014 Alex Britti was selected at "Sanremo 2015 – 65 Festival della Canzone Italiana" with the song Un attimo importante.
In October 2015 he participated in the "Toquinho & Friends" where the two artists give to the public, exchanging in perfect balance, rhythmic parts and solos, in pieces of both Brazilian and Italian musical culture.
Alex Britti's album "IN NOME DELL'AMORE" – VOLUME 1 – on It.Pop, anticipated by the single "Perché", a song in which Alex Britti asks why many women do not denounce the violence suffered. "Perché" was also born to give concrete help to women victims of violence in order to raise awareness of the complaint. All the rights of Alex Britti and It.Pop of the single are, in fact, destined to Weworld, a world NGO that has been working for over 15 years in defending the rights of women and children in Italy and in the world.
After a triumphant winter tour that saw him protagonist in the main Italian theaters, punctually sold out, Alex Britti repeated with the success of In nome dell'amore tour also in summer.
On March 24, 2017, "Speciale" was released, the first single by Alex Britti that anticipated the release of the new album "In Nome dell'Amore – Vol. 2" released on May 5, 2017. The second excerpt was "stringimi forte amore" released in June 2017, followed by the summer tour.
In the career of the artist a lot of importance is on the live activity, which is why he spends most of his career on tour in Italy and Europe. In his concerts, which punctually have large audiences, he always experiments with new sounds, blending his pop style with blues and jazz sounds.
Let us remember, in summer 2017, the pilot project called "In missione per conto di Dio", where together with Max Gazzè he is the protagonist of a concert in which they reinterpret the respective successes. The project is presented at the Auditorium Parco della musica in two memorable evenings, both sold out.
In 2018 Alex decides to face a new experience accepting the offer to make himself available for the talent show "Amici'' as a professor.
The year 2019 is mainly dedicated to live activities that include a long tour starting on the 1st of May and that will last until the end of October. The tour will be open to the public. On July 12, 2019 he will restart simultaneously with the project "In missione per conto di Dio", which he will debut in Perugia as the inaugural concert of the famous and prestigious "Umbria Jazz Festival". Besides Alex and Max, the great world-famous drummer Manu Katché will join as a special guest. The same concert will be performed during the summer in two other Italian cities and then debuted in autumn in some European capitals.
On January 24, 2020, the single Brittish, produced by Salmo, was released on the It.Pop label and distributed by Artist First.
On April 24, 2020, It.Pop released the single "Una parola differente", distributed by Artist First.
From 18 July 2020 to 5 September there was the Summer Tour 2020.
RICHARD BONA
Fans call him "The African Sting," critics call him a pro, but it's his unique and electrifying style of connecting with his audience that titles him what he really is—a true musician. Richard Bona's seemingly effortless voice, fierce skills on the bass, unique songwriting/arranging expertise and ability to learn just about any instrument simply from watching, position him as a rare African artist to have established an unscalable reputation on an international platform.
Originally from Cameroon, Bona remains true to his roots, with African rhythms reflected in each of his seven
albums; the first three, Scenes from My Life, Reverence and Munia display his unique approach to storytelling through sounds. Seeking inspiration from his origins, the themes of Bona's albums address international issues which mirror his desire of using music to take a stance on issues affecting the oppressed. As an artist with a purpose, he expanded into new musical territories and teamed up with Congolese star, Lokua Kanza and Antillais singer/composer Gerald Toto to create the 2004 collective, Toto, Bona, Lokua on which Bona wrote four tracks.
The trio then hit the road and toured across France; however, Bono remained in Europe to tour with guitarist Mike Stern and guest star on Japanese guitarist Kazumi Watanabe's album "Mo Bop 2." Shortly after, the pair embarked upon a tour of Japan, providing Bona with the opportunity to incorporate the culture and sounds of a new territory into his work. Furthermore, he toured with Pat Metheny and appeared as a guest on two of Bobby McFerrin's albums, along with numerous notable collaborations.
He later garnered recognition at the Victoires du Jazz Awards where he won the trophy for "Best International Artist of 2004;" such a prestigious award confirmed his ability to appeal to a multitude of audiences ranging from jazz, pop, bossa nova, traditional, afro-beat and funk. In 2005, Bona guest appeared on Mario Canonge's album "Rhyzome" and contributed to the soundtrack for Pascal Plisson's film "Massai, les guerriers de la pluie." Also known for his role in the group, Steps Ahead, Bona has performed on many stages such as the Adelaide International Guitar Festival and with many luminaries such as John Legend for his album, Tiki, which was also nominated for a Grammy in 2007 for "Best Contemporary World Music Album."
Despite the fact that he spent the entirety of 2008 and 2009 on a non-stop tour, Bona released The Ten Shades of Blues, which illustrates his experience with different shades of the blues that he interacted with during his tours throughout locations such as the Sahel, Brazil, India, United States and Cameroon. Shortly after, Bona was honored by the Festival International de Jazz de Montreal with the Antonio Carlos Jobim Award; as one of sevenrecipients, he is distinguished as an artist in the field of world music whose influence on the evolution of jazz is widely recognized. He also received the prestigious SACEM Jazz Award (Grand Prix Jazz SACEM) in 2012 for the Jazz Grand Prize. Additionally, his certified Gold 2013 album, Bonafied, demonstrates a fusion of cultures in which he is continuously developing into a new album that will be toured internationally. With numerous awards, performances, and years of expertise, Bona has become one of the most accomplished and sought-after musicians of this generation. As he continues to redefine his sound, stay tuned for what he has planned in the future.
MARIO BIONDI
Listening to the hit "This is what you are" on the radio for the first time in 2006, you have probably imagined the singer as a robust middle-aged African-American man. However, Mario Biondi, a native of Catania (a city that always had a special relationship with Italian music), was a white-skinned thirty-five years old man.
You then would have been misled by his extraordinary warm and mellow voice, refined over many years of live shows, which would have made comparisons with Teddy Pendergrass, Isaac Hayes and Barry White, three of the most beautiful black voices of all times, inevitable. The song had already been launched in 2004, not under the name of Mario Biondi, but with the pseudonym of Was-A-Bee. "This is what you are" becomes part of numerous dance compilations, but the quality leap happens when the song enters into the top ten of the most broadcasted tracks by Norman Jay on his cult program aired on BBC Radio. The song is the driving force behind "Handful of soul", created together with The High Five Quintet, a successful cocktail of rhythm & blues, soul, swing and jazz, in which original songs and covers of the less inflated American soul repertoire are alternated. In 2007 "I love you more" was released, a double live cd with the songs of "Handful of soul" and other jewels such as "Just the way you are" in the version of Barry White and Burt Bacharach's "Close to you". With the latter, a professional feeling is immediately created, so much so that the legendary American composer writes for Biondi "Something that was beautiful", a splendid ballad that becomes one of the highlights of "If", his second album, which is published at the end of 2009. The disc, released by Tattica Records, sells over 200,000 copies, an extraordinary result when we consider its musical genre. Beyond the sales, the album confirms that Biondi is one of the most interesting realities on the national scene, one need only listen to the single "Be lonely", a riot of rhythm and strings in pure 70's vibe, or the sensual ballad "Ecstasy". Even Claudio Baglioni in "Juke box" and Renato Zero in "Non smetterei più" would make use of the unmistakable baritone voice of the Sicilian crooner, whose prices are constantly rising. "Due" is an innovative "talent album" released in 2011, in which Biondi's warm voice meets those of some talented young artists, more or less known, to whom he acts as a "hen". Twenty songs, of which thirteen unreleased, composed by the same artists that were involved in the project, and seven covers, including the splendid Temptations' "My girl", used for the commercial of a famous Italian beer. The album of his definitive international consecration is "Sun" from 2013, the first released by a major, with which the singer has also established himself in the international market. To achieve it, he gathered an all-star of artists such as Al Jarreau, James Taylor Quartet, Omar, Leon Ware and Chaka Khan. Incognito's "Blue" gave the album its unmistakable imprint, which translates into a fresh, pulsating, modern and yet pleasantly vintage sound. The same year, after a triumphal concert-event at the Royal Albert Hall in London, Mario Christmas was released, an original Christmas disc with two unreleased tracks and surprising reinterpretations of "Last Christmas", "Driving home for Christmas" and "Let it snow". "Beyond", from 2015, right from the title, is a programmatic declaration of Mario Biondi's desire to present himself with a new sound. Of the soft jazz ballads of the past, only "All I want is you", co-written with Dee Dee Bridgewater, remains, otherwise "Beyond" is an album to dance to, into which we find a very funky sound, a couple of pop-dance songs like "Love is a temple" and "I chose you", and even a reggae one, "Where does the money go". In 2016 the crooner from Catania published his first greatest hits, entitled "Best of Soul", with the best of 10 years of activity in two CDs plus 7 unreleased tracks. The languid Brazilian sounds are the thematic fulcrum of "Brasil", recorded and produced in 2018 over a year of working in Rio de Janeiro by Mario Caldato and Kassin. Brasil is a real journey into the many facets of Brazilian music through unpublished pieces and reinterpretations of classics that Biondi reinterprets without forgetting soul and funk, and proficiently using four languages: Portuguese, English, French and Italian. The elegant ballad Rivederti stands out of the album, presented at the Sanremo Festival of 2018, where Mario Biondi has once again demonstrated his voice control and technique, always at the service of emotions. The recent "I wanna be free" with Quintorigo and "Sunny Days" with Cleveland Jones are two singles that show Biondi's constant sound research. In 2020, a disastrous year for the world of music and entertainment, Mario had to give up several scheduled dates in Italy and abroad, which will be made up for in 2021. The emergency situation, however, did not prevent him from working on various projects. First of all, he completed the recordings of his new album, coming out in 2021. In June he released the digital EP "Paradise Alternative Productions", containing 3 different versions of Paradise, a song that will be contained in the new album, a project that on the occasion of the Record Store Day / Black Friday was released in a special vinyl edition with additional remixes not available digitally. On 8 December Mario released the Christmas single "This Is Christmas Time", a holiday version of his classic This Is What You Are with lyrics adapted with Nick The Nightfly and music recorded again in the studio with his band. On January 15, 2021, "Cantaloupe Island (DJ Meme Remix)" was released, a single that anticipates the upcoming release of the new album. It is a reinterpretation of the classic by Herbie Hancock published in 1964 within the Empyrean Isles album, to which is added the disc imprint of the Brazilian producer DJ Meme, met by Mario in Rio De Janeiro during the recordings of the album Brasil . On January 29, 2021, "Dare" was released, a record with which Mario celebrates his 50th birthday, amidst the atmospheres of his beginnings and new sounds, always in the name of quality.
Regione Siciliana – Assessorato del Turismo dello Sport e dello Spettacolo
Dipartimento Regionale del Turismo, Sport e Spettacolo
Via Notarbartolo 9 – 90141 – Palermo
C.F. 80012000826 – Partiva Iva 02711070827
© 2021 Sicilia Jazz Festival Tutti i diritti riservati | Credits © Bl@bs
Segui tutti gli aggiornamenti del Sicilia Jazz festival sui nostri canali socia!
Fotografie realizzate da Arturo Di Vita Fotografia